This form stopped accepting submissions on June 11, 2018 8:00 am EDT.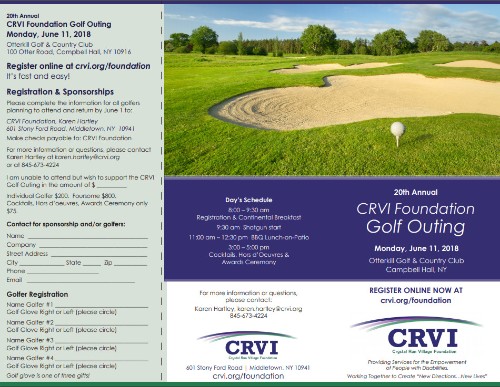 Click here to download the full PDF!
Our Sponsors
Presenting Sponsor:  E & A Contracting
Platinum Sponsor:  A.J. Gallagher Risk Management
Gold Sponsors:
The Bonadio Group
Storm King Group
CBIZ
BBQ Lunch Sponsor:  Driscoll Foods
Golfer's Gifts Sponsor:  Hudson LTC Pharmacy
Raffle Sponsor:  K-Man Glass
Golf Awards Sponsor:  Global Communications
Beer & Beverage Sponsor:  Focused Wealth Management
Continental Breakfast Sponsor:  Nationwide
Hole In One Sponsor:  Enterprise
Fairway Sponsor:  Orange Bank & Trust
Birdie Sponsor:  Atlantic, Tomorrow's Office
Eagle Sponsor: Kristt-Kelly
Golf Cart Sponsor:  GNS Group, Ltd.
Golf Ball Sponsor:  Barclay Damon
Sponsor-A-Hole: 
BFI
Alan Turken All State Insurance
Irv Schroder & Sons, Inc.
Lanc & Tully
Kinetech Voice Technologies
Allied Excavation, Inc.
iQuarters
Crystal Run Health Plans
Tee Signs: 
DH Heating & Air Conditioning
O & D Electric Corp.
Jackson Lewis
Allied Excavating
Walden Savings Bank
International Contractors
Orange Regional Medical Center
Judelson, Giordano & Siegel
iQuarters
Ward's Bridge Inn
Todd Lyons Paving
Donations:  Calculated Fire
Our 2018 Golf Outing Journal