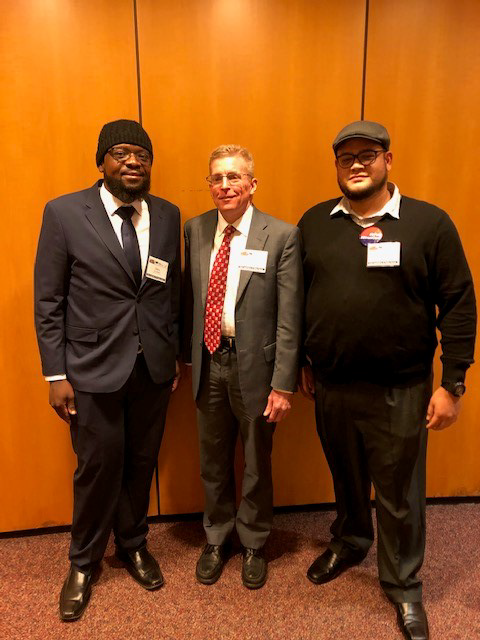 Andrew Martinez and Chris Shepard, both DSPs, accompanied me to Albany and here is a little bit of their feedback on the day in Albany. We thought you would be interested in hearing what Chris and Andrew think about what they heard and learned while in Albany.
Andrew has been working at CRVI for 8 years; in that time he has had roles in Residential, Relief, and Day Hab.  He is currently in Comm Hab and enjoys it because "helping others is what I do best", according to Andrew.
Chris Shepard has been a proud employee of CRVI for over 10 years. Chris is a Comm Hab DSP but is currently filling in as a DSP in Pinekill, "helping however I can"
In Andrew's words, here is what his biggest "take away" was from the Legislative Forum.
"My biggest take away was the sheer volume and outcry of passion in support of DSPs. I no longer see the fight to increase wages of DSPs as a local issue. CRVI is fighting for us but the politicians need to hear our voices too. There are rallies, phone calls, letters and other ways that we can be a part of this campaign."  "#bFair2DirectCare is an awesome thing. There are more people than we know, including parents, agencies and more fighting for what we deserve. They are fighting for us but we can be a part of it. Our voice can be heard and politicians needs to take us seriously."
Here is Chris' biggest "take away" from the Legislative Forum
"My biggest "take away" was how misinformed most DSPs are. Despite how open Administration at CRVI has been with emails and open forum Retreats, many stay misinformed. That is from denial or disbelief of the information that is given. As a DSP, we are truly in a crisis! We must understand this and take action. Any DSP with a family, living check to check and having problems paying their daily bills and paying for childcare should take notice. We must take notice now or suffer for years to come.  I have made this a priority for my present and future well-being. The #bFair2DirectCare initiative/campaign is a proud and important campaign that is looking for fair pay for the work we do. It has my total support and backing." 
"I want my peers to know that our leader, Bill Sammis, is sincere when he explains the crisis of the DSP. We must all join arms as an organization and as DSPs to get what we deserve. I fully support our leader and the fight across New York State for #bFair2DirectCare.  I hope all of you do too".
This is direct feedback from your peers; they are stressing how important it is to be involved in the #bFair2DirectCare campaign – do your part and reach out to our legislators and governor and let them know that we are all very serious in our quest to make the #bFair campaign be heard.