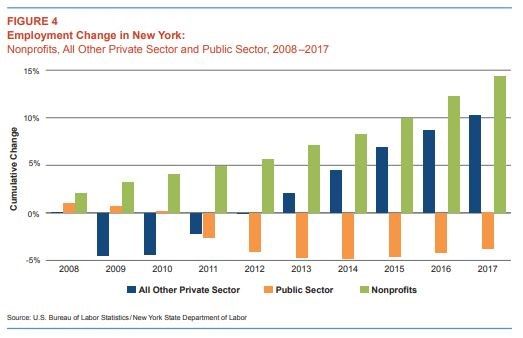 The following information is from New York Alliance for Inclusion and Innovation
Last week, State Comptroller Tom DiNapoli issued a report highlighting the significance of New York's nonprofit sector as employers and the positive impact on respective local economies. Nonprofits in New York employ more than 1.4 million people with total wages of just over $78 billion in 2017. According to the report, nonprofits are essential to the local economies in the Mohawk Valley and Southern Tier "where nearly 1 in 4 private sector jobs was at a nonprofit in 2017". In five counties —Tompkins, Franklin, Otsego, Sullivan and Bronx — nonprofits provide more than one in three private-sector jobs.
New York has the second largest number of nonprofits organizations in the nation with over 33,700 established. In 2017, nearly 300,000 nonprofits organizations had been established nationwide. More than one in ten nonprofit jobs nationwide were locate din New York.  
According to the report, "nonprofits paid over $670 billion in wages nationwide in 2017. New York ranked first among the states for total nonprofit wages with over $78 billion, due primarily to its large number of employees. The overall average annual wage for nonprofits in New York, $55,572, was eighth in the nation and 3.5 percent higher than the national average for such employers." With more than 618,000 jobs in 2017, the healthcare industry accounted for the largest share of nonprofit employment in New York. In the educational services industry, nearly five out of six private sector jobs were provided by nonprofits. This sector also had the highest average annual wage, $65,609, generating a total of $18.8 billion in wages in 2017. The social assistance industry, which includes positions such as personal and home care aides and childcare workers, had the lowest average wage at $30,504.
New York City, Hudson Valley and Long Island regions had the highest number of nonprofit employees in the State.
To see the State Comptroller's report, click on the link below
http://www.osc.state.ny.us/reports/economic/nonprofits-in-nys-2019.pdf