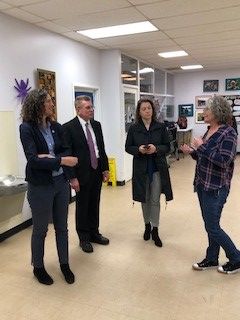 Open Vistas rolled out the red carpet on Tuesday, October 22nd to welcome Senator Jen Metzger! Senator Metzger toured the facility, visited with the people we support and took in all of the information and projects with enthusiasm. 
After welcoming the senator, she joined myself and Shelly Fabiszak, Assistant Day Hab Supervisor, for a tour.  Shelly explained what a "typical" day at Open Vistas looks like while there was some input from the people we support as well!  They were very excited to have this special visitor at their day program. We visited the Activity Room where corn bread was being made and current events were being talked about.  Senator Metzger introduced herself to everyone and was very interested in what they were doing. 
The Wood Shop was our next stop where Garry Brown, Day Hab Specialist, was so proud to show the senator all of the projects that were being worked on as well as projects that were completed. Garry and one of the individuals in the shop presented Senator Metzger with a music box they made together.  Needless to say, she was thrilled! 
The activity and projects in the Art Room were showcased next and the senator was so impressed that everything that was being worked on. Of course everyone was very proud to show her their work.
Even though it was a damp and misty day, Senator Metzger was interested in seeing the garden that the individuals take so much pride in.  Everything had been pulled up for the season but she was able to see how large the garden was and Shelly told her all about what they planted. 
Open Vistas Day Habilitation program assists individuals realize their goals to achieve high levels of choice, independence and personal growth. Our person-centered, accomplishment driven approach and staff to individual ratio offer individuals the support and encouragement they need to learn and excel in those activities that interests them.
Among the many activities available:
Fine arts
American Sign-Language classes
Woodworking
Computers and technology
Gardening
Volunteering with various organizations in the local community
Cooking and baking classes
Competitive sports
Exercise: Swimming, walking and hiking
Music
Weekly opportunities to visit museums and cultural activities
At Open Vistas there's something for everyone. We are person-centered and focus on guiding individuals to discover and explore their interests. Each day, Open Vistas continues to nurture confidence, growth and personal fulfillment while having fun and cultivating lasting relationships.
Our medication certified staff, overseen under the auspices of a registered nurse, ensure a safe and healthy experience.
We hope the Senator enjoyed her visit as much as we enjoyed having her and we are very appreciative that she took the time out of her busy schedule to visit us and learn about Open Vistas.